This is part of our series of quotes that may help when you're facing adversity or finding your new normal.
You may have discovered your DVT is linked to a diagnosis of cancer, you may have suffered a life-threatening PE or heart attack. Whatever the reason, many of our readers go through difficult times.
We post these on the weekends, so if you're not interested you can just ignore these posts, but if you find them helpful you'll have a little more time for reflection.
We are on holiday in California and have just has a great time visiting the Wizarding World of Harry Potter at Universal Studios. So today's quote is taken from the fourth Harry Potter book, the prisoner of Azkaban when headmaster Dumbledore says
"Happiness can be found in the darkest of times, if one only remembers to turn on the light."
It is part of the speech Dumbledore gives at the welcoming assembly of the term, after he tells the students that dementors will be guarding the school gates and how nasty dementors are. Maybe you'll find the quote helpful, even though your darkest of times are unlikely to be due to dementors!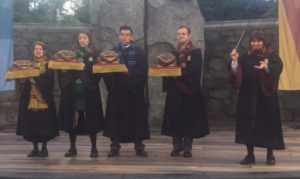 This youtube clip from the film starts with the school choir singing and we were lucky enough to see a frog choir like this at Universal Studios.