There has been recent debate about whether or not flossing is helpful for dental health. Even the Cochrane review, a very reputable source of medical information says " There is very weak evidence that flossing plus toothbrushing may reduce the amount of plaque" However it concludes that flossing reduces gum disease.
If you decide to floss and you're on anticoagulants, you may find your gums bleed. If you have  a problem using the traditional string or an inter-dental brush then you may find a water flosser suits you more and causes less bleeding.
There are various types of water flossers. Paul and I use a Philips sonicare one, which has a charger that can be shared with an electric toothbrush. You just fill a small container on it with water or mouthwash and squirt it between your teeth. In one of his first attempts at photography, our son Noah took this photo of me demonstrating its use!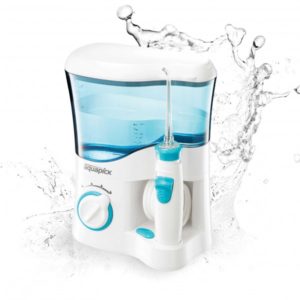 Another type has a water tank separate to the actual flosser. I saw these for the first time at our local home exhibition, but I've never tried one. Have any of you?
I  like the fresh feeling flossing gives me but I have to admit I often forget to floss and then it just becomes another of those things I feel guilty for not doing – like exercise! How about you?
Please follow and like us: