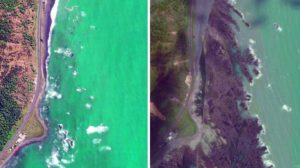 Almost 2 weeks ago New Zealand experienced a large Earthquake rated at 7.8 on the richter scale. This led to some significant changes in the topography of the South island with the seabed rising by as much as 4 metres in some places. This meant the sea life normally on the seabed well below the tide mark was suddenly exposed. One well known New Zealand delicacy, the Paua,  known for their beautiful shells, were suddenly stranded out of the sea. Within days, a rescue effort to save the Paua got underway. Many locals took to the beach to prise the Paua off  the rocks, now above sea-level, to throw them into the sea to give them a chance of survival. Initially this seemed like a noble cause but soon the Ministry for Primary Industries were telling the locals to stop as they may cause more harm than good. Why? It seems that the reason for the concern relates, in part, to a problem with the Paua's clotting system.
There are three species of päua in New Zealand. Paua are  species of abalone
, or sea snails, which have probably been around since prehistoric times. They have been used by man as a source of food for thousands of years and their shells have been used for decoration in many parts of the world.  Abalone shells have been found in archaeological sites in South Africa and China dating back over 70,000 years.
Päua have an oval shaped shell, inside which is a large muscular foot which clings to rocks. They have a pair of eyes, a mouth and tentacles, and breathe through gills which are near their mouth under a row of pores in the shell. Inside the mouth is a long, file-like tongue called the radula, which scrapes algal matter to a size that can be ingested. Since it has no obvious brain structure, the abalone is considered to be a primitive animal. However, it does have a heart on its left side and blood flows through the arteries, sinuses and veins, assisted by the surrounding tissues and muscles. The Paua's blood is clear and carries oxygen from the gills to the other organs. the blood has a blue tinge when carrying carbon dioxide back to the gills. One thing that is unique about the abalone's blood is that it does not clot. In fact very little is known about the Paua's coagulation system.
So what is the problem with trying to save the Paua. Interestingly Paua do not respond well to stress and can die just from being displaced. If you stress a Paua it will fix itself firmly to the underlying rock, its heart rate will drop from around 19/min to 1/min and chemicals are released in the blood similar to those seen in vertebrates under stress. The blood contains cells called haemocytes which act as phagocytic cells which destroyed bacteria etc. The haemocyte numbers drop transiently under stress. If you try to remove a stressed Paua from a rock and accidentally cause any damage it will bleed to death. Also for the Paua to survive they must be carefully placed back onto appropriate rock.
Experts believe that the Paua exposed above the water line will almost certainly die and those in shallow water are best left alone as they will find their own way to deeper water. Any attempt to move them will probably result in their death. Perhaps the best thing is to leave them alone, but I certainly feel for the locals in the South Island who believe their efforts may help to save a kiwi iconic species.
Please follow and like us: